Home Buying Guide for Orange Beach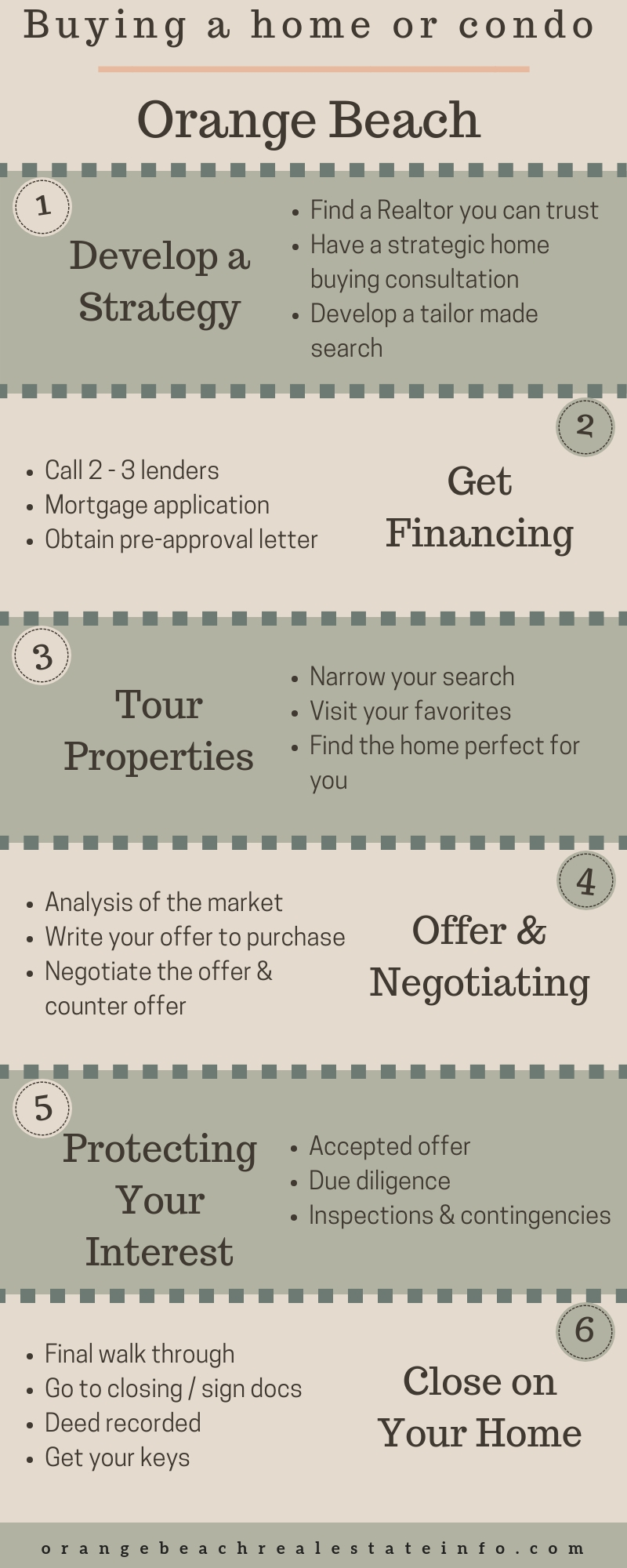 Are you thinking about buying a new home or condo in Orange Beach? Well, you're not alone! There's no doubt that Orange Beach continues to attract investors, second home owners, and full time residents. It may be because of the low prices, taxes, beach, or emerald green waters. Whatever the case may be, we have affordable homes and condos situated in one of the most beautiful places in the country.
I'm a Realtor in Orange Beach and the properties here are in my "wheelhouse". I know the market. I know what's over-priced and what's not. Chances are…….
You are Over Paying for Your Orange Beach Home or Condo.
Although our real estate conditions are not conducive to a full blown buyer's market, buyers are still able to get a "small reduction" off of the listing price. We do have an epidemic at the beach with homes and condos being over-priced. I'm not sure whether sellers are looking for a win-fall with the sale of the property or listing agents are willing to put whatever number on the property to get the sale. It is wrong.
We are not in a market where buyers should pay more than the property is worth. That being said, let's get into the steps to buying a home or condo in Orange Beach.
Finding the Right Property
We will develop a strategy to discover and prioritize your needs and wants in a property.
Do you want a single family home or condo?
Is this a full time residence for you?
Are you looking for a condo that will produce the most amount of rental income on the Gulf Coast?
What boating facilities do you need?
There are a number of questions that we need to get answers to in order to find the perfect place for you. Prioritizing your needs and wants will help us identify the exact property to look for which is helpful since there are so many available properties in Orange Beach.
I'll create a tailor made search for you based on the details of the property that you need (and want). For instance, there's no need to even look at condos on Terry Cove if you're only wanting a full on Gulf view. This is all about you! So let's talk about what is important to you. After discovering your needs and wants in a property, I'll set you up with a system that you will love. This Corroboration Center will automatically send you listings that only meet your specific criteria. Here's an example of a screenshot that you will see for your own search……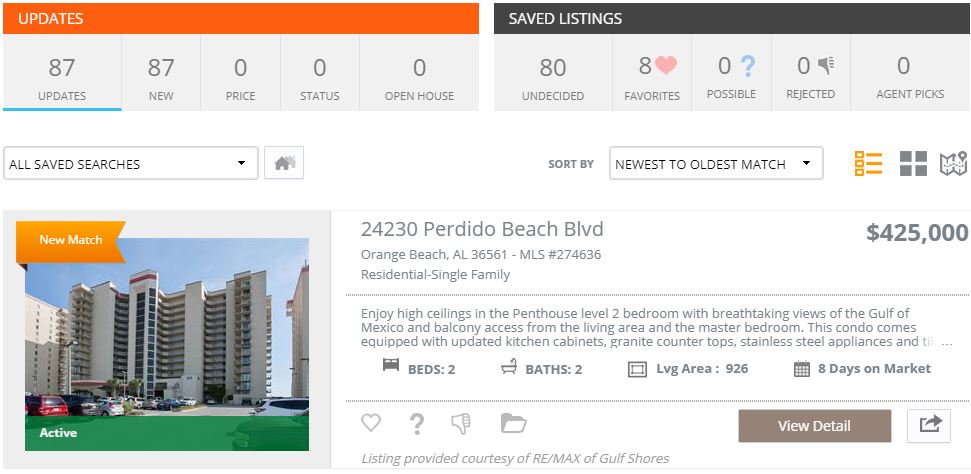 You will love this system (I'm sure of it). You'll get notified of properties that match what your'e looking for but you will also get to mark them as a favorite, reject them, or a possibility. You will also be able to make a comment to me, share in an email, or share on Facebook.
What's more important is that you're not being bothered with properties that you have no interest in looking at to purchase.
We will preview and research these properties prior to viewing them in person (saving you time). We'll evaluate these properties to check for suitability, the resale value, and affordability.
Secure Your Financing
Although about 30% of home buyers at the beach pay cash, the rest of us will need to get our finances in order. Not only will you need to speak with a loan officer but you should also start thinking about cash that you're going to have to come up with at closing. Your closing costs and down payment will be the major expenses.
For those who are going to live in the home or condo full time, you will probably have to pay 5% of the sales price as a down payment. For second home use, your down payment is 10% and for a full on investment property the down payment is 25%.
I would highly advise contacting a loan officer in the very beginning stages of buying a home or condo in Orange Beach. Knowing exactly what you qualify for will relieve possible stress that may come into the picture when you find a property that you like. There's a good chance that you actually qualify for a property that is well beyond what you want to spend. The idea is to be comfortable with your purchase.
Speaking of being comfortable, I can analyze the numbers for you for each property that strikes your interest, taking into account your down payment, mortgage payment, HOA fees, utility costs, and rental income history. Using recent rental history, I can come real close to see whether you're spending a little each month, making money, or breaking even on your investment.
Touring Properties
This is the fun part! Once you have identified a target price and we have a firm grip on your needs and wants for a property, we narrow down the search to the cream of the crop. Of course, a lot of this will be done using the Collaboration Center that was mentioned above. When it comes to seeing homes or condos in person, I'm at your service. I'll schedule the appointments, accompany you on each visit, and give you my opinion for each property.
My job is have your best interests in mind so I may not be totally positive all the time. I'll advise you as if I were buying the property myself.
Making the Offer
So we look at several properties and you find one that you really like. This is the time when I dive into the historical background of the property and comparable sales. I'll analyze:
What properties sold that were similar to the subject property
How long has the subject property been on the market
When did the comparable properties sell
What is a fair offer
My job is to save you the most money on your purchase without ticking off the seller from a super low offer. I've seen many times in the past when a buyer low balls the seller so bad that the seller doesn't even give the buyer a counter offer. With that being said, Orange Beach is still in a buyer's market where sellers are accepting offers that are lower than the list price. However, the days of the steals are gone. We are seeing an average of around 3% difference in list and selling price at the time of this writing.
Contingencies and Due Diligence
From the day that you and the seller agree on all of the terms of the contract, you will typically have between 30 to 45 days to satisfy everything in the contract.
Due diligence is basically inspecting the property to find out the good, the bad, and the ugly. The burden is on the buyer to have the home or condo fully inspected by a licensed home inspector and verify that the property gets a clear termite letter.
A contingency is a clause in a contract that must be satisfied in a certain amount of time before something else can happen. In other words, a home inspection contingency says that both parties have to agree to the repairs of the inspection (if applicable) and the inspection must be completed in a certain amount of time (ex. 10 days). This must be done in order for the buyer and seller to close on the home or condo.
There are several types of contingencies in a real estate transaction and I can help you with those when you're ready to buy a home in Orange Beach.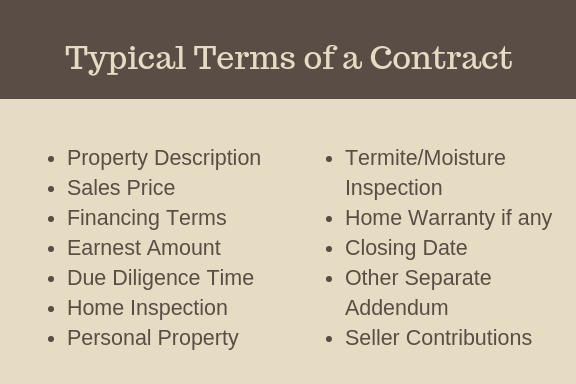 Closing Day
This is the other fun part. As you near your closing date, you'll start to get more excited about your new property but you're not quite done yet.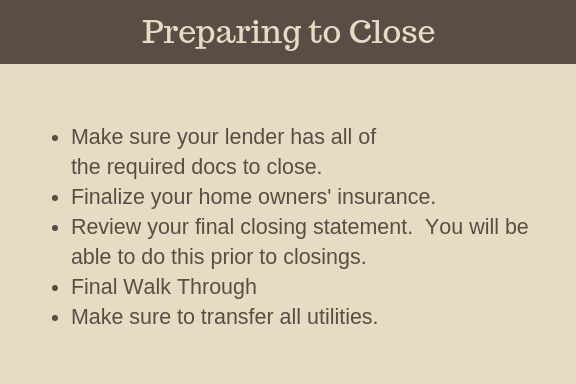 It's very important to complete a Final Walk Through just before closing (usually the day before). Doing this will ensure you that all repairs were completed and no new damage was created between contract and closing.
When it's time to close, I'll meet you at the title company. You'll then provide your driver's license to the closing agent, pay whatever money you were supposed to bring to closing, sign some paperwork, and close on your new property.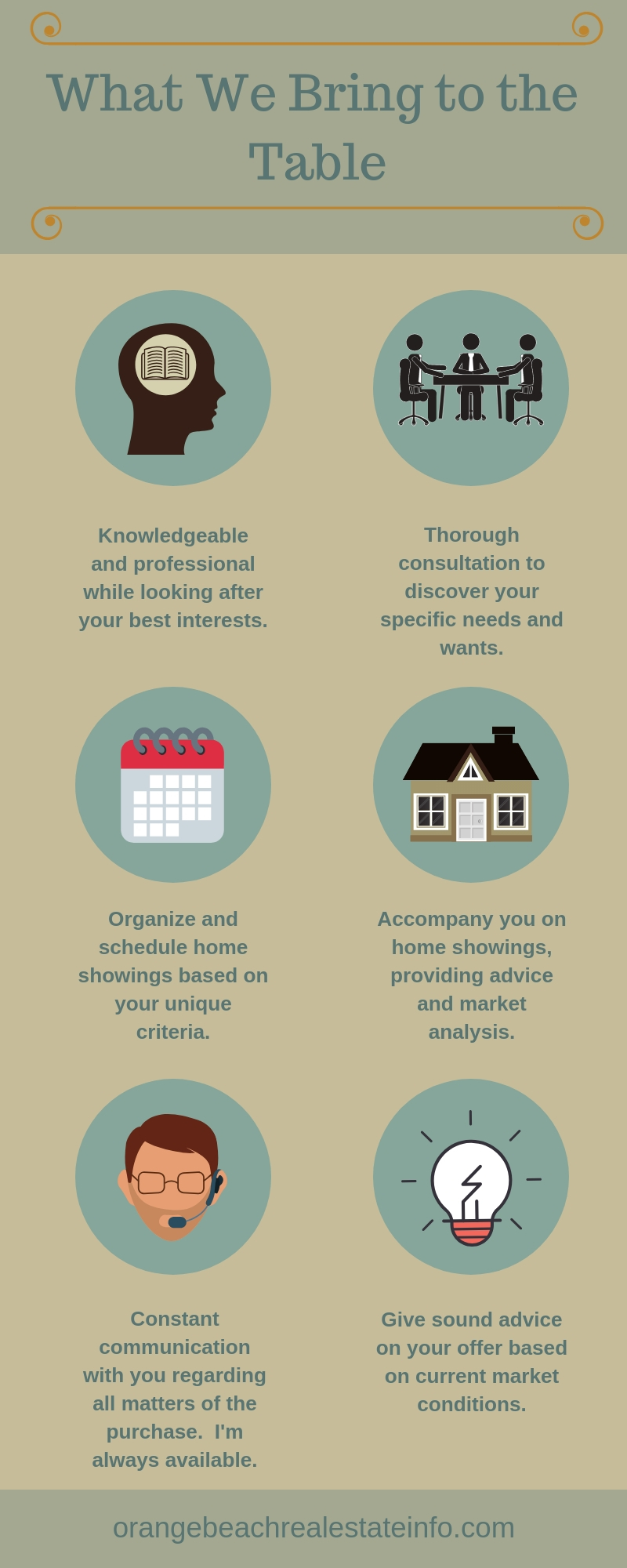 Thanks for taking the time to read this home buying guide of Orange Beach. I hope that you found it helpful. If you've been contemplating the idea of buying a home or condo in Orange Beach, please contact me from the information below.