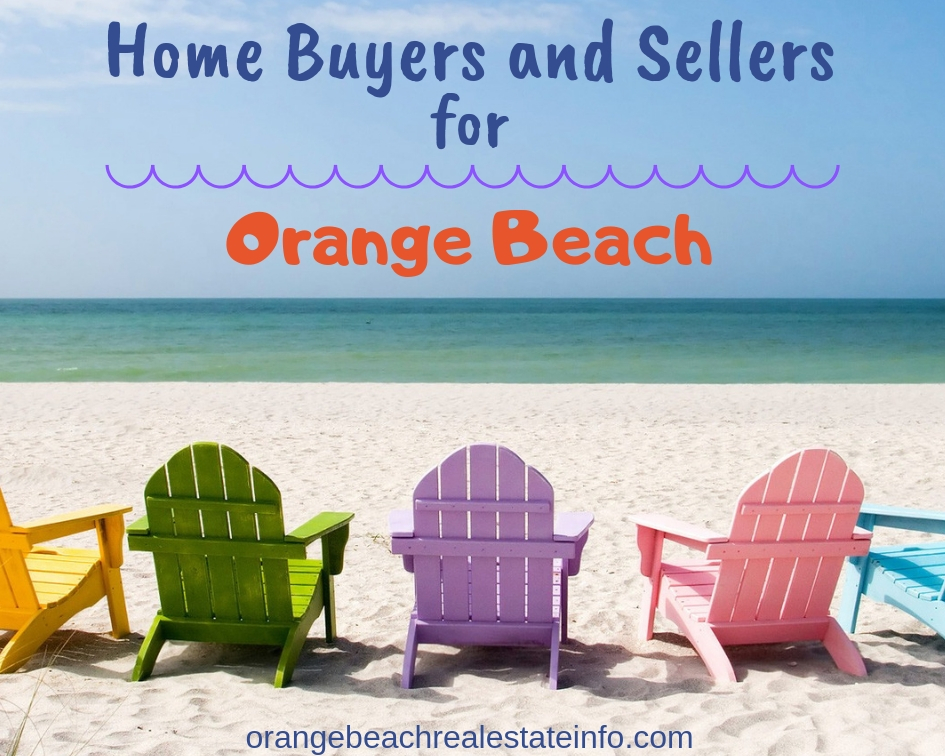 Real Information for Buyers and Sellers in Orange Beach AL
While there are many elements to buying and selling a home in Orange Beach, here are a few strategies that I will employ to help you reach your real estate goals. Reach out to me to find out the full scope for what I can do for you.


Selling a Home or Condo in Orange Beach
Use a Realtor
With the constant evolution of the internet, there are countless ways to gather information for real estate. However, there are many things that the internet can't do for you which is why 9 out of 10 sellers use a Realtor to sell their home. Here are a few of those things:
Online home evaluations are not always accurate. A seasoned Realtor will know how to analyze local real estate data in order to advise you on a proper list price.
Realtors know their local market. There's so much to take into consideration when selling a home and price is the most important. A Realtor will not only look at sold properties that are similar to your home but they will also analyze homes that are on the market, expired, or withdrawn.
Realtors can advise you on preparing your home to sell based on years of experience.
You have someone who is looking out for your best interests. I'll negotiate on your behalf to get you the best price and terms.
You don't have to home during showings. Your Realtor will set up the appointments and get feedback from the buyers.
Your Realtor knows real estate law and will orchestrate the many intricacies of the contract and addendum.
Pricing Your Property Appropriately
This is the number one factor that will effect the sale of your home. If you price it too high, your home will sit on the market with no action. If you price it too low, you'll leave money at the closing table for the buyer. I've always said that there is a science and an art to selling homes. Pricing is the science part. I mentioned this briefly above but it's so important.
You have to consider everything, not just homes that have sold that are similar to yours. You have to also find out why some homes sold and others didn't. What was their condition? How does the condition of homes that sold compare to yours? An appraiser will want to use comparables that are as close in vicinity to yours as possible. However, by looking at homes that are for sale (your competition) in surrounding areas can be beneficial too. Here's an example. Let's say you have a condo in Phoenix III that you want to sell, however; there is a condo in Gulf Shores with basically the same view, square feet, and view that's priced $25,000 less. You need to take everything into consideration.
I will be able to do this in no time, giving you a suggestion that will sell your property while allowing you to keep the most amount of money.
Preparing Your Home to Sell
The second biggest factor in selling real estate is how well does the property "show". What is the condition of the property? There are many articles written about this subject but here are some highlights.
De-personalizing allows buyers to picture themselves in the home rather than you.
Staging makes your home look aesthetically pleasing and brings flow into the space.
Removing excess furniture will give the space an appearance of being larger.
Be neutral with colors and decor.
Clean up the outside to have great curb appeal.
Make as many repairs as possible before listing your home.
I've been in probably over 10,000 homes and have a good idea of what buyers want in a home. I can advise you on how to prepare you home to sell faster.
Marketing Your Home to Sell
To sell your home in a timely fashion you need to expose your listing to the most set of eyeballs as possible. This comes with working with someone who is internet and social media saavy. Most agents have a website that was given to them by their brokerage company.
Well, the internet is where over 95% of buyers find their next home so doesn't it make sense to work with someone who has a strong online presence?
I own 7 local real estate websites (plus the one my brokerage company gave me) and spend a lot of time gaining ground with search engines. One of the sites is the second largest in the area and has over 400 pages that rank on the first page of Google. Listing with me will get you major exposure for your home.
If you wanting sell your home or condo in Orange Beach, please contact me. Let's talk about your real estate needs and I'll go over what I can do for you.

Buying a Home or Condo in Orange Beach
The Initial Meet & Greet
In our area the initial consultation is done over the phone since many buyers live in another state. Whatever the case may I want to learn about your motivations, needs, wants, and time frame. Are you going to use the property for yourself or will this be an investment? Paying cash or financing?
There's so much to talk about but at the end of the day, I will be able to better serve you, saving you time and frustration.
One of the first questions to address is, "What is your target price?". If you are getting a loan, you'll need to contact a loan officer in the early stages. I have several to recommend who are local and know our market.
Your Property Search
Once we have determined your needs and wants, while establishing a price that you're comfortable with, I'll use that criteria to create a saved search for you. This is a special tool to have. I utilize a system that creates web page just for you. I'll use the criteria that you give me and you'll be notified every time a property matches what you want to see. It's much more than that though. You will not see matches when they come on the market but you will also be able to mark a listing as a favorite, delete a listing, share with friends, and make comments. Here's a screenshot example of the Collaboration Center: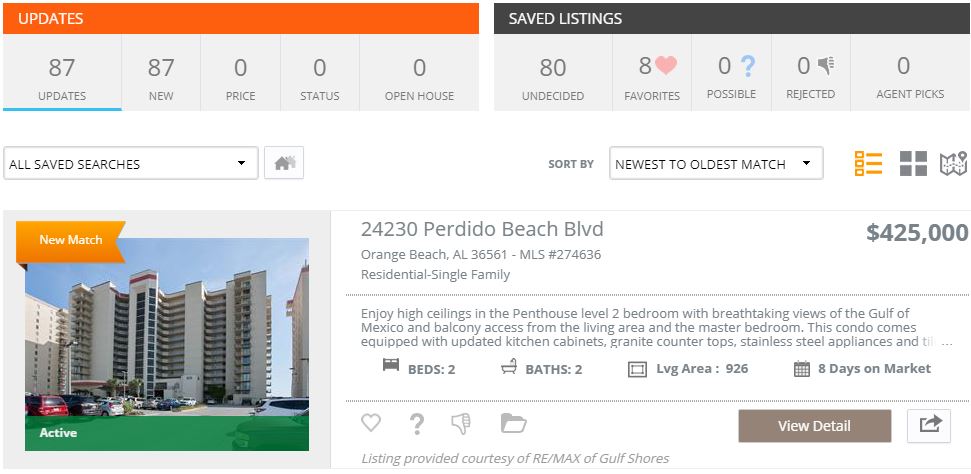 The Tour
The home search is all about you and I'm here to assist and advise so you can make the best decision. From the properties that you have chosen through the Collaboration Center, we'll then set up private tours for you to view the homes or condos in person.
I'll set everything up according to your schedule and accompany you on the showings. I'll discuss with you both the positives and the negatives of each property, giving you a second pair of eyes for evaluation. I'll never steer you towards properties that are out of your price range or towards properties that mean a bigger commission for me. This is all about you. On that note (in case you didn't know), the seller pays for all commissions so you get total representation from me without paying a dime.
Making an Offer and The Contract
When you have found "the one", I'll analyze properties that have recently sold and similar to the home or condo that you like. It's my duty to negotiate the best possible price and terms for you and that's what I'll do.
Once you and the seller have agreed on all of the terms of the contract, the real work begins. Besides getting some signatures and initials from you, I'll orchestrate everything from Day 1 of the contract through Closing Day. You'll be educated on contingencies, inspections, and time lines. Most importantly, I'll communicate with you on a continual basis so you are never in the dark on what's going on with your real estate transaction.
Are you thinking about buying a home or condo in Orange Beach? Let's get together and discuss what you're looking for. I'll go to work and hit the ground running. Please contact me today from the information below.