The Orange Beach condo market is full of variety when it comes to the size of units, style, and amenities but this article will focus on condos that have 2 bedrooms.
We all have specific needs and wants when buying a condo so for those of you who only want to consider a 2 bedroom condo in Orange Beach, this is for you.
2 Bedroom Condo Overview for Orange Beach – December 2019
What's On the Market Now….
As of today's writing, there are 111 condos that are for sale in Orange Beach that offer 2 bedrooms. While this city has a multitude of complexes, here are a few communities where you can find these units:
You can see all 2 bedroom condos for sale here.
You can visit any of the above links for more information on the community and see all of the condos that are for sale.
Here are the statistics for 2 bedroom condos on the market in Orange Beach:
111 Condos for Sale
Highest priced – $639,000
Lowest priced – $184,900
Average price – $387,058
Median price – $398,500
Largest – 1,700 square feet
Smallest – 612 square feet
Average size – 1,102 square feet
Price per square foot – $352
Days on the market – 110
Orange Beach is not a very large area but this town always seems to have a strong turnout in sales. As you cans see from the graphic above, sales do very well in November for 2 bedroom units and prices have fairly steady over the past 3 years during this time.
There have been 80 condos with 2 bedrooms sold just in November over the past 5 years.
Also very important, there has been a 22% in value for these units over the last 5 years. Think where value will be 5 years from now!
2 Bedroom Condos Sold from November 1st – 30th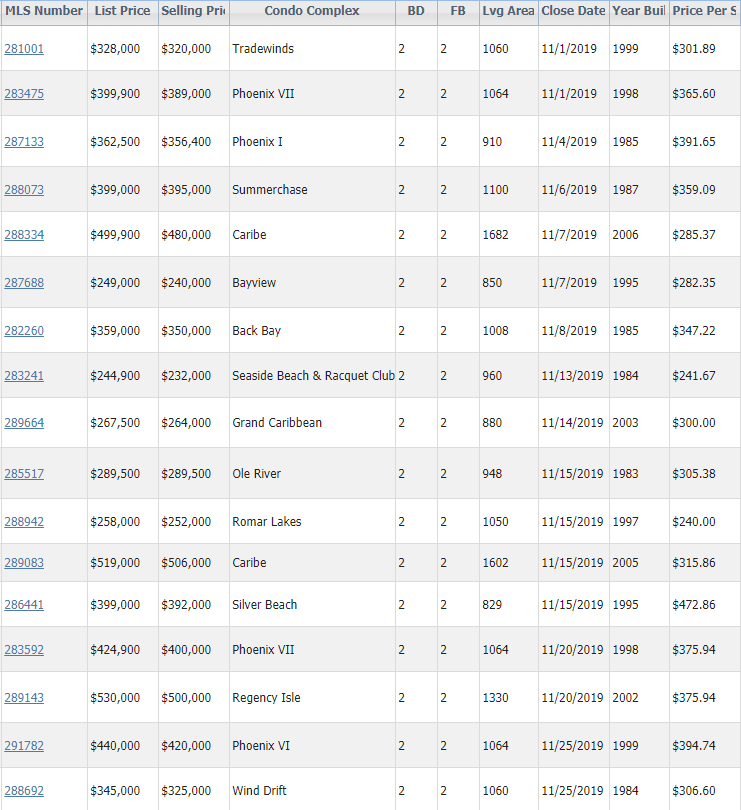 Are you thinking buying or investing in a condo in Orange Beach? I provide the comprehensive information at the beach for my clients. Please reach out to me and I'll get you anything you need.
ORANGE BEACH CONDOS BY PRICE
$100,000 to $200,000 – $200,000 to $300,000 – $300,000 to $400,000
$400,000 to $500,000 – $500,000 to $600,000 – $600,000 to $1,000,000