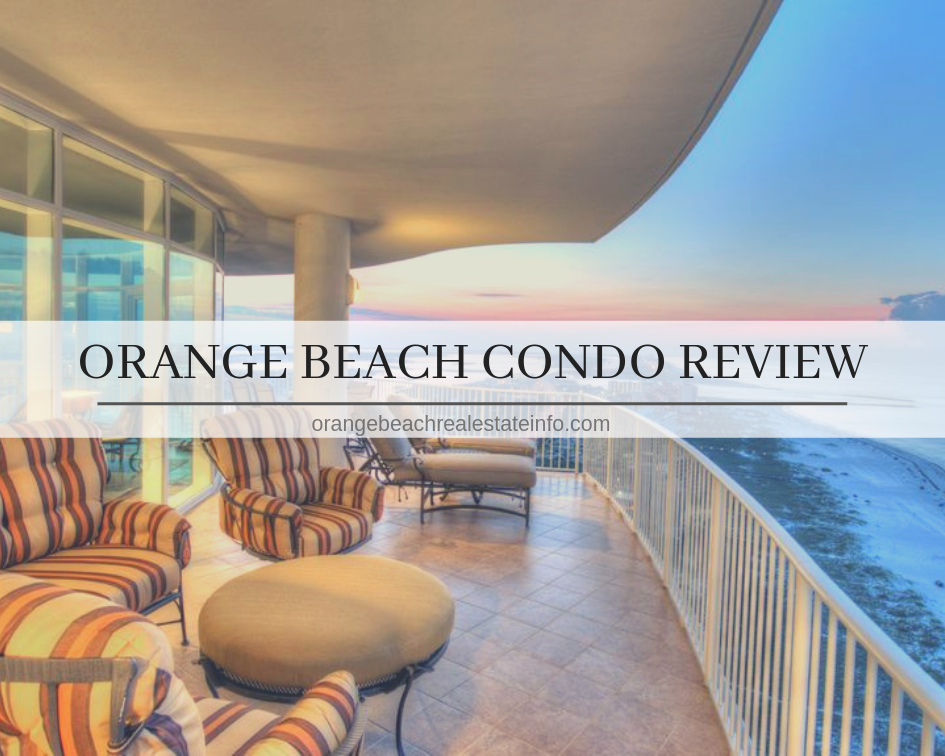 May has proven to be a strong month for condo sales in Orange Beach as the summer buying season is well underway. It looks like the tourist season is going to break new records this year as more and more folks are hearing about our beautiful beaches. Investors are taking notice as well. While we do have a number of buyers moving to Orange Beach full time, it seems that the majority of condo purchases are from real estate investors who want to capitalize on tourism.
We have around 6.5 million tourists come to our beach annually and they have to stay somewhere!
This condo review was created to give buyers the most comprehensive report on the pulse of the real estate market in Orange Beach. So, if you're interested in buying a condo at our lovely beach, give me a call. I can help you with any property, assist in finding the perfect condo, and advise you on pricing/marketing conditions.
Orange Beach Condo Review – May 2019
There was an astounding 87 condos that sold in Orange Beach between May 1st through the 31st! Wow, what a real estate market we are in right now and that doesn't include of course single family homes, commercial properties, or land.
Condos Sold Last Month

The above sales information for Orange Beach condos is the most accurate information you will find. It includes:
Original List Price
Final Selling Price/Closing Price
Condo Complex
The Unit #
Square Feet for Each Unit
Number of Bedrooms
Number of Baths
The Price Per Square Foot
Year Built
The Closing Date
Whether you're a first time buyer or working on expanding your real estate portfolio, this is great information to have. This is the pulse of our market and the information will give you a very good idea of what to expect when buying or selling.
By the way, if you would like to explore any of the condos that are on the market from the list of complexes above, you can see them all here, Orange Beach Condo Communities. By clicking that link, you'll see all of the condo buildings in this beautiful town. Each community link will take you to the properties for sale in that complex.
Orange Beach Condo Real Estate Stats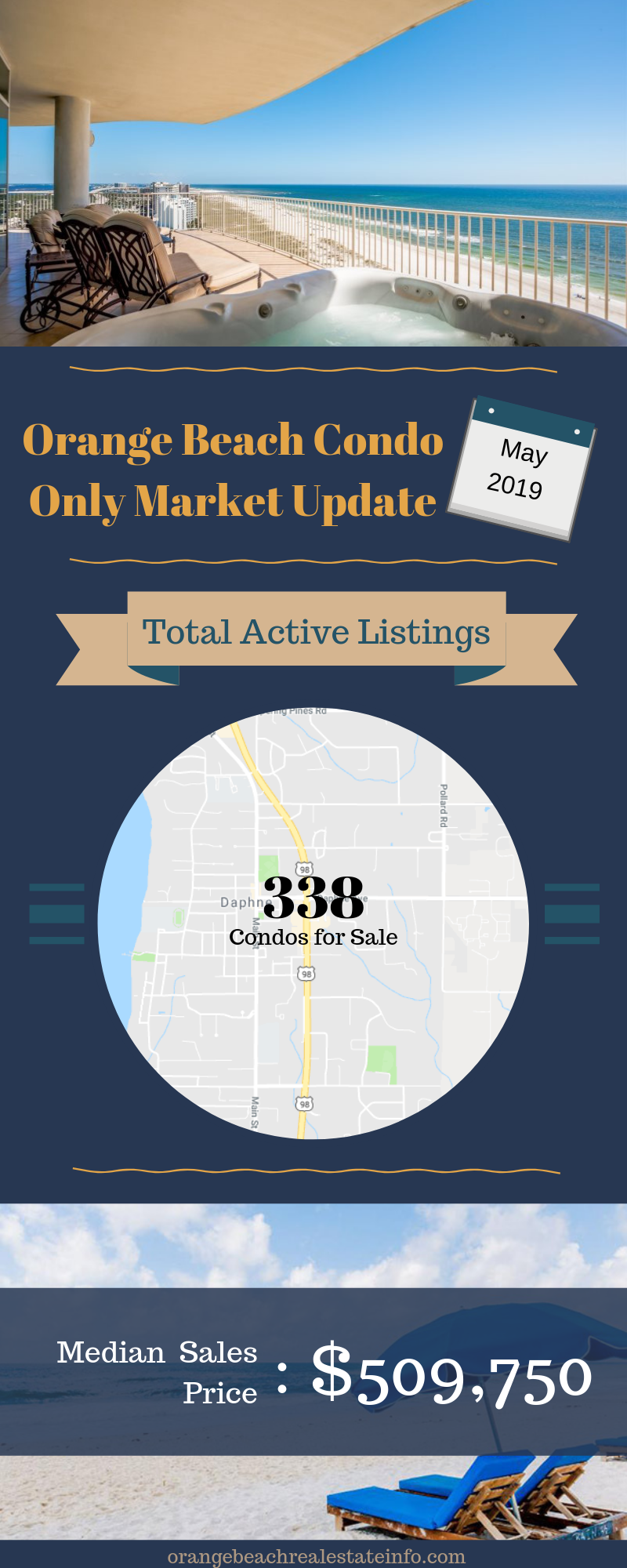 Here's the breakdown for condos that are currently on the market in Gulf Shores:
338 condos for sale
Most expensive – $3,299,000
Least expensive – $165,000
Median sales price – $509,750
Average price per square foot – $377
Most square feet – 5,700
Least square feet – 400
Average 1,659
Average days on the market – 135
The median value is the exact middle figure between the largest and the smallest value. For instance, the median value of the numbers 1-11 is 6.
Depending on where you want to live and what size you need, there is literally something for everyone in the Orange Beach real estate market.
Of the 338 condos for sale there are:
5 units that are under $199,999
83 units between $200,000 and $399,999
138 units between $400,000 and $599,999
53 units between $600,000 and $799,999
59 units over $800,000
Of course Orange Beach has a plethora of opportunities if you want to own a condo on the water. The bulk of the properties will obviously lie along the Gulf but their many other options as well. For instance, you could own at the beautiful complex of Phoenix on the Bay which is on Terry Cove. This along with many other communities is a great option for those who want to live here full time. Caribe is another fantastic complex that offers incredible water views of the both the bay and the Gulf.
So, whether you're looking for something luxurious or modest, you have great opportunities in Orange Beach.
To get a better picture of what is exactly for sale in your price range, be sure to check out the links below under "Search By Price".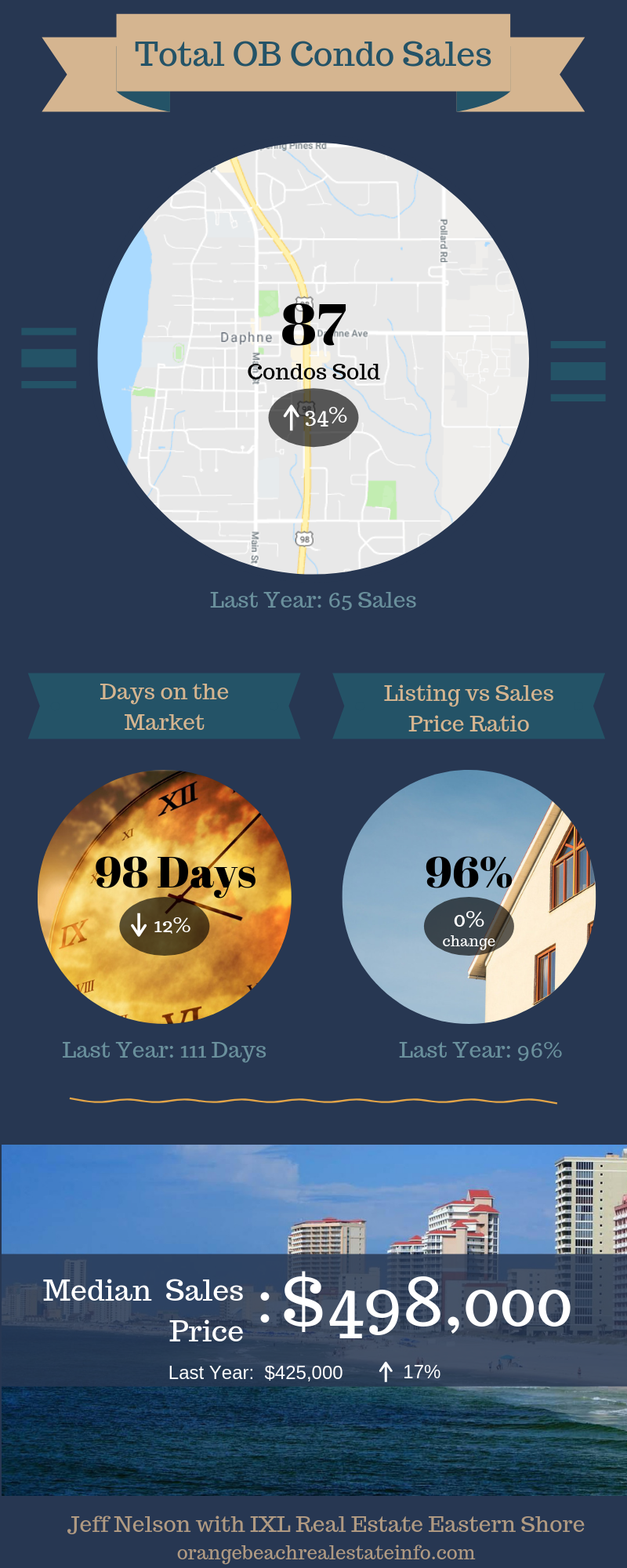 The condo market in Orange Beach is smokin' hot with a total of 87 condos sold, which is pretty impressive for a fairly small area in terms of a geographical footprint. That's nearly 3 closings every day of the month!
Here's how the numbers break down for condos sold in May:
87 condos sold
Most expensive – $1,740,000
Least expensive – $162,000
Median sales price – $498,000
Average price per square foot – $339
Highest square feet – 4,330
Lowest square feet – 392
Average square feet – 1,551
Average days on the market – 98
Listing to selling price ratio – 96%
By looking at these numbers we see that condo values are rising and the time that the property is on the market is decreasing. This is a sign of a strong market. However, the good news for buyers is that Orange Beach is still in a slight buyer's market. With a listing to selling price ratio of 96%, buyers are able to see an average of 4% discount off of the original list price.
Condo prices are moving upward but buyers are still not having to pay the seller's beginning asking price, for the most part. When the ratio rises beyond 100%, we'll then be in a seller's market.
There are no "steals" that I can find and foreclosures are pretty much non-existent.
Condo buyers should expect to realize between 2%-5% off of the list price (for the most part).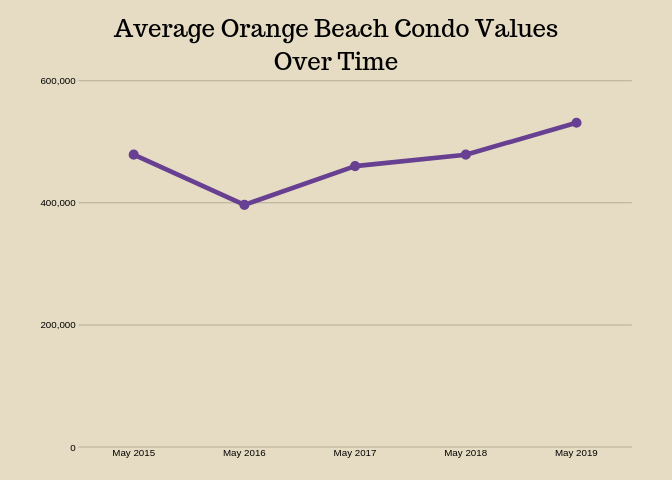 The average Orange Beach condo value has increased from $396,757 in 2016 to $531,201 in $2019.

This map was created to give you the exact location of the condos of Orange Beach. You can click on a marker or choose from the drop down menu on the top left.
There are quite a few communities here so this should be helpful to see the proximity of each building to shopping and things to do.
Searching for Orange Beach Condos
All Condo Communities in Orange Beach – Go here to see a list of every complex in town. Once there, you'll see links to each complex that will show active listings, property details, and pictures.
ORANGE BEACH CONDOS BY PRICE
$100,000 to $200,000 – $200,000 to $300,000 – $300,000 to $400,000
$400,000 to $500,000 – $500,000 to $600,000 – $600,000 to $1,000,000
Miscellaneous Searches
Orange Beach and Gulf Shores Condos with Indoor Pools
Most Expensive Condos – Here are all of the condos in Orange Beach that are over $1,000,000.
Least Expensive Condos – All condos that are under $250,000.