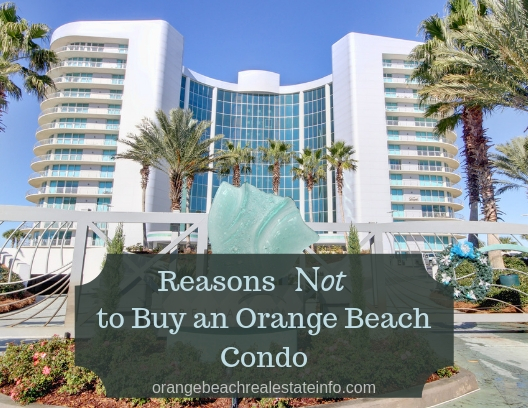 There is so much real estate activity in the Orange Beach condo market that I thought it would be a good idea to slow it down some. So, here are all of the reasons that come to mind to NOT buy a condo in Orange Beach…..
Don't Buy an Orange Beach Condo If…….
You Hate Water Views
I totally understand. Like many other people, you may prefer to look at trees or skyscrapers or maybe just an open field. Everything that's involved in purchasing a home or condo is taste sensitive so if you hate being around water, then Orange Beach is not for you.
Here you'll find water everywhere and I do mean everywhere! There are bays, bayous, rivers, and coves. Don't even get me started on the Gulf. Plus, it takes up so much space!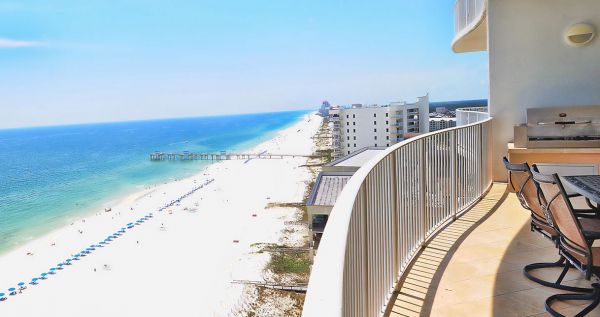 You Prefer Dark, Grainy Sand
The sand in Orange Beach is sugar-white and super fine to the touch so it would really be a bad idea to buy here if you hate that. You would be much better off purchasing a beach condo on the east coast.
Who likes to walk around on the beach barefooted anyway?
You Hate Seafood
Sure, Orange Beach has steak and chicken but this town is loaded with seafood. You can't turn around without someone bragging about it. On top of that, some of these Orange Beach condo complexes are actually within walking distance from so-called great seafood eateries. You just can't get away from them!
There is one McDonald's though so if you get stuck with having to buy a condo here, you at least have options.
What exactly is a Royal Red?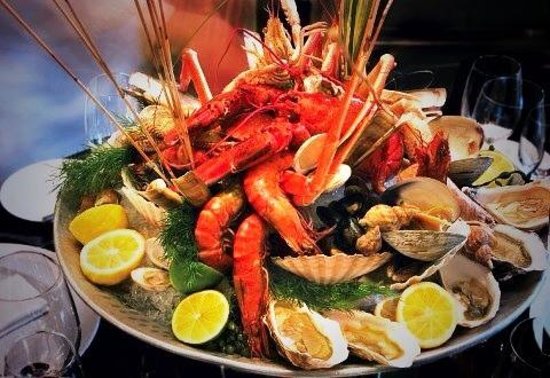 You Feel Better Paying More Property Taxes
I get it. From my understanding, Alabama has the lowest property taxes in the country (or maybe they are the second lowest). I think it's pretty obvious that if every other state is charging their residents more, Alabama must be doing something wrong. Something fishy is going on there! If this causes your skepticism to go through the roof, you should probably steer clear of owning in Orange Beach.
You Love the Snow
I think the average snowfall in Orange Beach is about an inch every 10 years or so. It's definitely a freak occurrence. If you prefer the joys of snow like driving in it, shoveling it, etc…this town is absolutely not for you. Snow angels would not be in your future.
Don't get me wrong. It does get a little chilly in January. Chilly enough in fact that I had to actually wear pants a couple of days this year. Thank goodness I was still able to fit in them (well kind of).
It's a little strange that we have so many people who move here from the north. I'm guessing there's some other reason that's driving them to Orange Beach besides the snow.
You Don't Want to Cash in on Tourism
Tourism is a real issue in Orange Beach with roughly 6 million people visiting our beaches every year. You're probably asking yourself why after reading this article. Why do so many people choose to come here year after year after year.
Who knows, but they have to stay somewhere. There's just not that many hotels in the area to accommodate them all so they have no other choice but to stay at Orange Beach condos. Not only that, tourists don't usually stay just one night then leave. They actually prefer to stay a week or even longer. Then we have those snowbirds (them again) who like to stay for months.
You'd Rather Drive Somewhere to Have Fun or Relax
Someone had the bright idea of offering all kinds of amenities in Orange Beach condo communities like tennis courts, racquetball courts, indoor/outdoor pools, lazy rivers, hot tubs, and the list goes on and on.
You may like the idea of piling everyone in the car and driving 20 miles to sit out in the sun or exercise. Well, if that's the case, look the other way. Orange Beach condos are inundated with things to do without leaving the property.
You Rather Hang Around People with Bad Attitudes
Yeah, there's no way that people can be so laid back and friendly all the time but that seems to be the case in Orange Beach. Even the people in the DMV are nice. What's the deal?

Well, I think that I've made my case as to why you shouldn't buy an Orange Beach condo. If you still insist on purchasing here, I guess you should give me a call.